&nbsp

Beavis and butthead virtual stupidity mini-games

ant.exe - Keep the ants from stealing your stuff - 1835 kb
airguitar.exe - Jam with beavis and butthead - 919 kb
tennis.exe - Throw tennis balls at people - 1903 kb
bnbloogie.exe - Spit off the roof on top of people - 2201 kb


&nbsp

Beavis and butthead 'little thingys' games

nacho.zip - Wreck em Balls
tv.zip - Change It
burger.zip - Thank you drive thru
Thanks to Antonia for those links

&nbsp

Other games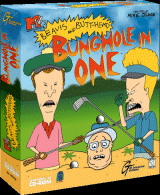 Beavis and butthead bunghole in one minigolf (Demo)
Features:
2 of the 18 gut-busting, hilarious holes.
Test your club-wielding skills as Beavis, Butt-head, Tom Anderson, Mr. Van Driessen, Todd or other memorable characters
complete with distinctive dialogue and play skills.
Challenge up to 3 friends in multiplayer mode.
Developed in conjunction with MTV.
Featuring the voice talent of Mike Judge, creator of Beavis and Butt-head.